Redback Technologies, Australia's leading Australian-owned and operated smart solar and battery company, has today gone public with its brand relaunch, and expanded product range.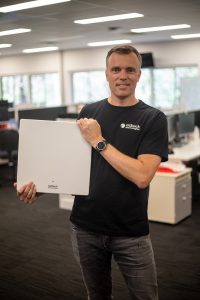 Redback Technologies CEO Patrick Matweew said, building a stronger connection between the company's unique Australian heritage and its purpose and vision was the main driver behind the decision to rebrand. 
"Our rebrand renews our strong commitment to our Australian customers, partners and the community as we strive to make renewable energy affordable for every Australian household and small business," said Mr Matweew. 
"Today's rebrand also coincides with a major change in Redback's strategy – Based on the great success we have had since 2015 with our smart home battery solutions, coupled with the fact that there is no affordable Australian brand in the market, we have decided to expand our portfolio to include grid-tied PV inverters." 
Mr Matweew said the new brand builds a strong, visual, and emotional connection between the company and its customers.  
"The Australian sun is such an important aspect of our landscape; our new branding takes these iconic colours and incorporates them, along with the open road to Australia's clean energy future. This ties in with our purpose to power a cleaner tomorrow," he said. "That is the key message – We want to give Australian households and small businesses an Australian option, one that is designed for our local conditions, that is robust and affordable, and there clearly is a gap in the market right now.  
Redback Technologies has today also expanded their line of products, announcing the additions of the new Redback Smart Inverters. 
"As Australians, we understand that every household has different energy needs, so we made a conscious shift to ensure we have an Australian solution for every customer – The single-phase inverters come in 5, 6, 8 and 10kVA output, are affordable and allow for home batteries to be added in the future," said Mr Matweew.   
Following the launch of Redback's first Smart Battery earlier this year and the incredible feedback received, Redback is also expanding the SB-Series with two, brand new and larger capacity formats. The SB9600 will have a nominal storage capacity of 9.6kWh and a 4.5kVA inverter. The larger SB14200 has 14.2kWh storage capacity and a 4.5kVA inverter.  
In addition to expanding the company's portfolio, Redback is also offering a full 10-year warranty for all our products.  
Mr Matweew said the new product launches and Redback's re-brand will open the next chapter in the Redback story.  "The whole Redback team is very proud to demonstrate that there is space and opportunity for a local, Australian start-up to get into the very competitive solar market and make a difference," he said. "I think our very Australian approach, based on relationships, a focus on local support and community engagement is what makes us stand out – This is how we want to continue to make a positive difference in powering a cleaner tomorrow." 
The new Redback Smart Inverter series is available in Australia from late November and are all compliant to the new AS4777.2(2020) standard.  
Similarly, Redback's two new Smart Batteries will be also available from late November, thought the smaller 7.2kWh Smart Battery is available now and is in stock in Australia. 
For further information visit redbacktech.com. 
Media contact:  James Eddy 0421 444 894