Your source for the latest in the smart energy economy.
Smart Energy magazine is the flagship publication of the Smart Energy Council (formerly the Australian Solar Council and the Energy Storage Council). Smart Energy Magazine provides a unique technical and practical resource that delivers insights and analysis to the solar, energy storage, green hydrogen, renewables and smart energy industries. The magazine covers industry news and comment, technical guides and information making it a must read if you work in or are interested in smart energy and renewables.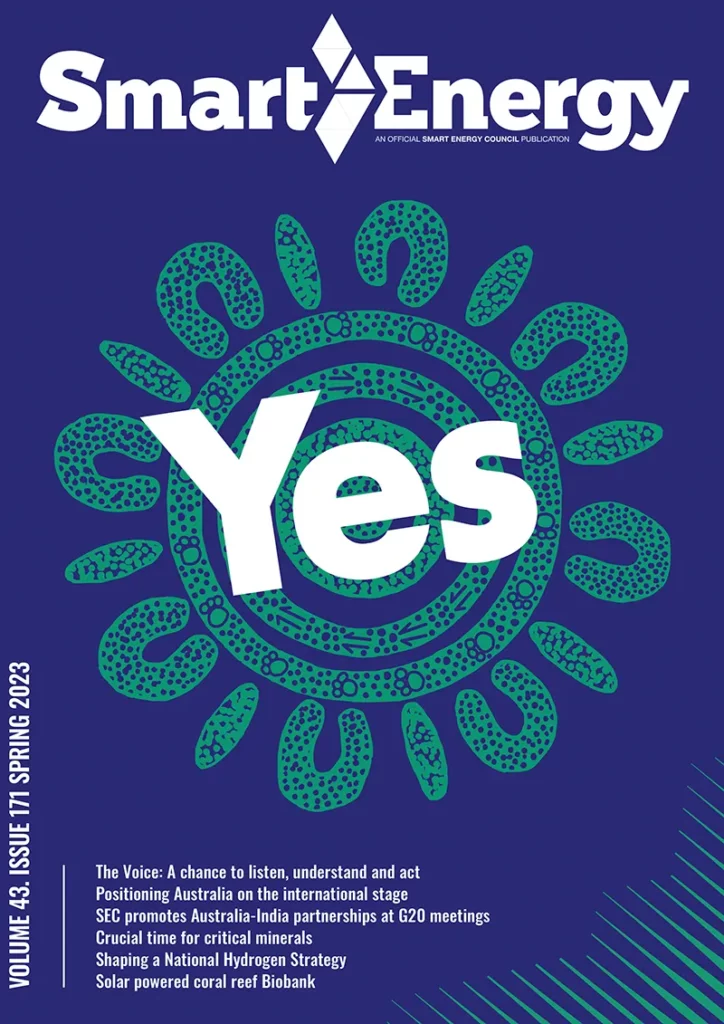 Yes - The Voice: A chance to listen, understand and act
The Voice: A chance to listen, understand and act
Positioning Australia on the international stage
SEC promotes Australia-India partnerships at G20 meetings
Crucial time for critical minerals
Shaping a National Hydrogen Strategy
Solar powered coral reef Biobank
The Rising Power of India
A renewables and climate friendly federal budget
Smart funding to grow renewables
Showtime fun: Smart Energy in words and pictures
Electrifying Parliament – a spark of an idea
The vast yet imperilled Pacific
Distributed energy certainty
A Snapshot of Smart Energy Magazine
Delving into cutting-edge developments from micro to large-scale renewables, and advocacy to commentary and everything in between, the magazine is created by and for the smart energy sector. It is designed for smart energy devotees. Smart Energy magazine is an essential read delivering the news, insights, and analysis on the solar, storage and smart energy industry.
Articles in Smart Energy magazine are written by industry specialists and product suppliers. Features covering solar and storage policy are also a regular inclusion, for example:​
Do you have a story to tell?
For editorial enquiries please contact Nicola Card on nicola@smartenergy.org.au
Advertising Opportunities
Interested? Have some questions? One of our team members would be more than happy to connect with you to discuss further. Contact us, or book an appointment.
Senior Manager: Industry Relations