The Smart Energy Council has provided pre-certification for Yara International's green ammonia plant being built in the Pilbara, Western Australia under the Zero Carbon Certification Scheme, recognising a commitment to produce renewable ammonia from energy produced by on-site solar PV.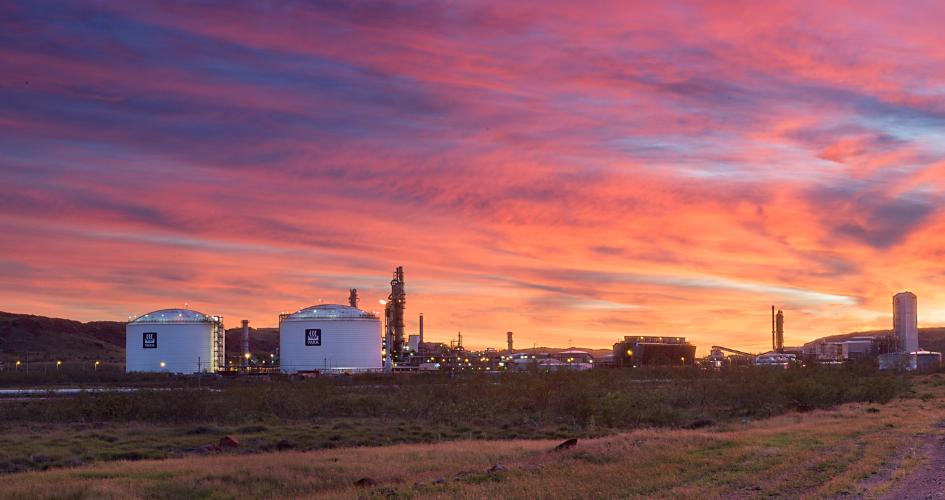 "This is the first green ammonia project to be certified under the Smart Energy Council's world-leading Zero Carbon Certification Scheme," said Mr. John Grimes, Chief Executive of the Smart Energy Council.
The WA Government is a founding partner of the Zero Carbon Certification Scheme which now has 15 Founding Partners and international advisors.
Yara, one of the world's biggest fertilizer companies and a leading ammonia producer, is a frontrunner with zero carbon certification of its green ammonia plant in the Pilbara. The plant received funding from the WA Government and the Federal Government through ARENA. Construction will commence in 2023. This is the first stage to make one of the world's biggest fertilizer plants zero emissions in Australia.
"This certification will provide guarantees to our customers in Asia, Australia and Europe that the quantities supplied will be produced according to strict standards and inform customers about key aspects such as the renewable origin and greenhouse gas footprint," said Mr. Magnus Ankarstrand, President of Yara Clean Ammonia.
"Any investment in the Australian hydrogen industry should be in green hydrogen, that is hydrogen made from 100 per cent renewable electricity. That is why the Smart Energy Council's scheme is important because it will enable hydrogen and related products to be certified as zero emissions. It is critical that we can track how these products are manufactured so customers can be certain that the product they select is genuinely zero emissions," said John Grimes, CEO Smart Energy Council.
"Achieving certification provides certainty to our customers and confidence in the emerging green hydrogen industry. Customers want to know how it is made and how big the greenhouse footprint is," said Mr. Leigh Holder, Business Development Director in Yara Clean Ammonia.
Bureau Veritas, a world leader in testing, inspection and certification were engaged to undertake the technical assessments for the pre-certification on this project.
"As the energy transition gains momentum, it offers industries and companies significant opportunities to decarbonise their operations, implement new processes and bring new products to market. Independent Certification of the origin and source of green ammonia and green hydrogen production and the associated carbon factor becomes a critical element for enabling offtake and provides assurance to stakeholders around the commitment organisations are making towards net zero targets. Through its independence and impartiality Bureau Veritas is bringing trust and credibility to various stakeholders through the energy transition." said Dr. Andrew Mortimore, Vice President – Pacific Region, Bureau Veritas
Other Founding Partners in the Zero Carbon Certification Scheme include the Ammonia Energy Association, the COP26 High Level Champions, Power Ledger, CWP Global, Energy Web, Star Scientific and the ACT renewable hydrogen cluster. The German Energy Agency (dena) and the Green Hydrogen Catapult are Advisors to the Scheme. The Smart Energy Council is also collaborating with the Green Hydrogen Organisation on the global standard for green hydrogen.
More information
For interviews and more information, contact Mr. Wayne Smith at Smart Energy Council on 0417 141 812
Read more about the project here: https://www.yara.com/news-and-media/news/archive/news-2022/yara-at-the-forefront-of-clean-ammonia-in-australia/
Learn more about the Zero Carbon Certification Scheme: https://smartenergy.org.au/zero-carbon-certification-scheme/
***
About Bureau Veritas
Bureau Veritas is a world leader in laboratory testing, inspection and certification services. Created in 1828, the Group has more than 80,000 employees located in nearly 1,600 offices and laboratories around the globe. Bureau Veritas helps its clients improve their performance by offering services and innovative solutions in order to ensure that their assets, products, infrastructure and processes meet standards and regulations in terms of quality, health and safety, environmental protection and social responsibility.
Bureau Veritas is listed on Euronext Paris and belongs to the CAC 40 ESG, CAC Next 20 and SBF 120 indices. Compartment A, ISIN code FR 0006174348, stock symbol: BVI.
About Yara Clean Ammonia

Yara grows knowledge to responsibly feed the world and protect the planet. Yara Clean Ammonia is uniquely positioned to enable the hydrogen economy in a market expected to grow substantially over the next decades. We aim at significantly strengthening our leading global position as the world's largest ammonia distributor, unlocking the green and blue value chains, and driving the development of clean ammonia globally.
Building on Yara's leading experience within global ammonia production, logistics and trade, Yara Clean Ammonia works towards capturing growth opportunities in low-emission fuel for shipping and power, carbon-free food pro-duction and ammonia for industrial applications.
Yara Clean Ammonia operates the largest global ammonia network with 12 ships and has access to 18 ammonia terminals and multiple ammonia production and consumption sites across the world, through Yara. Revenues and EBITDA for the last 12 months were USD 3,638 million and USD 172 million respectively as per Q2 2022. Yara Clean Ammonia is headquartered in Oslo, Norway.
About Smart Energy Council
The Smart Energy Council is the peak industry body for solar, storage and smart energy in Australia. Founded in 1954, today the Council is a not-for-profit public company limited by guarantee. We have over 1000 members nationwide, including solar and storage manufacturers, distributors, retailers and installers, renewable energy project developers and investors, academics, analysts and consultants. The Smart Energy Council is also responsible for the delivery and development of the Zero Carbon Certification Scheme, through its division Hydrogen Australia, from 2020.