Members of the Smart Energy Council's India Delegation ventured to the Australian High Commission in Delhi for a high-level trade and business briefing by government experts and industry innovators. 
The Department of Foreign Affairs and Trade (DFAT), as well as the Department of Industry, Science and Resources (DISR), updated attendees on bilateral trade developments.
Here Australian Climate Change and Energy Minister, Chris Bowen MP, shared a video message with the delegation. 
"Australia and India both recognise the importance of accelerating the clean energy transformation for our economies, and for our people ," said Climate Change and Energy Minister, Chris Bowen MP. 
"Australia's rich resources and clean technology expertise, paired with India's massive manufacturing capability, make us perfect partners to scale up production of those critical technologies.
Ambassador Manpreet Vohra, High Commissioner of India to Australia, also addressed delegates. 
"I'm pleased that the Smart Energy Council is visiting India, this is a fantastic opportunity for the 30-odd Australian companies, and an opportunity whose time has come ," said Ambassador Vohra. 
"It's good that the delegation will take concrete steps to partner with suppliers of solar modules and inverters, wind technology, electrolysers, electric vehicles and related sectors such as batteries and EV software.
Following discussion with government officials, delegates were introduced to officials from the International Solar Alliance (ISA) – a cooperation of 121 countries established by India and France in 2015. 
ISA aims to mobilise more than $1 trillion of investments by 2030, to deploy solar energy technologies to countries with deficient infrastructure.
The ISA's work is of keen interest to Australia's solar industry; New Zealand recently applied for membership to the initiative. 
The Smart Energy Council entered an international cooperation of its own, signing a memorandum of understanding with the National Solar Energy Federation of India (NSEFI). 
The partnership will see the two leading smart energy bodies promote India-Australia solar energy, climate awareness and clean technologies. 
"Strengthening bilateral smart energy ties gives our nations an edge in the global race to net zero" said Smart Energy Council CEO John Grimes. 
"Australia's on the precipice of becoming a renewable energy superpower, knowledge and technology sharing with our Indian partners puts us in prime position to seize that opportunity.
Narrowing from international solar to the solar subcontinent, Indian Government Energy Adviser Shri Rajnath Ram delivered a policy overview for delegates focused on the nation's journey to net zero. 
NITI Aayog is the Indian Government's public policy think tank, their energy vertical plays a key role in India's transition towards large-scale green hydrogen, energy storage development and more.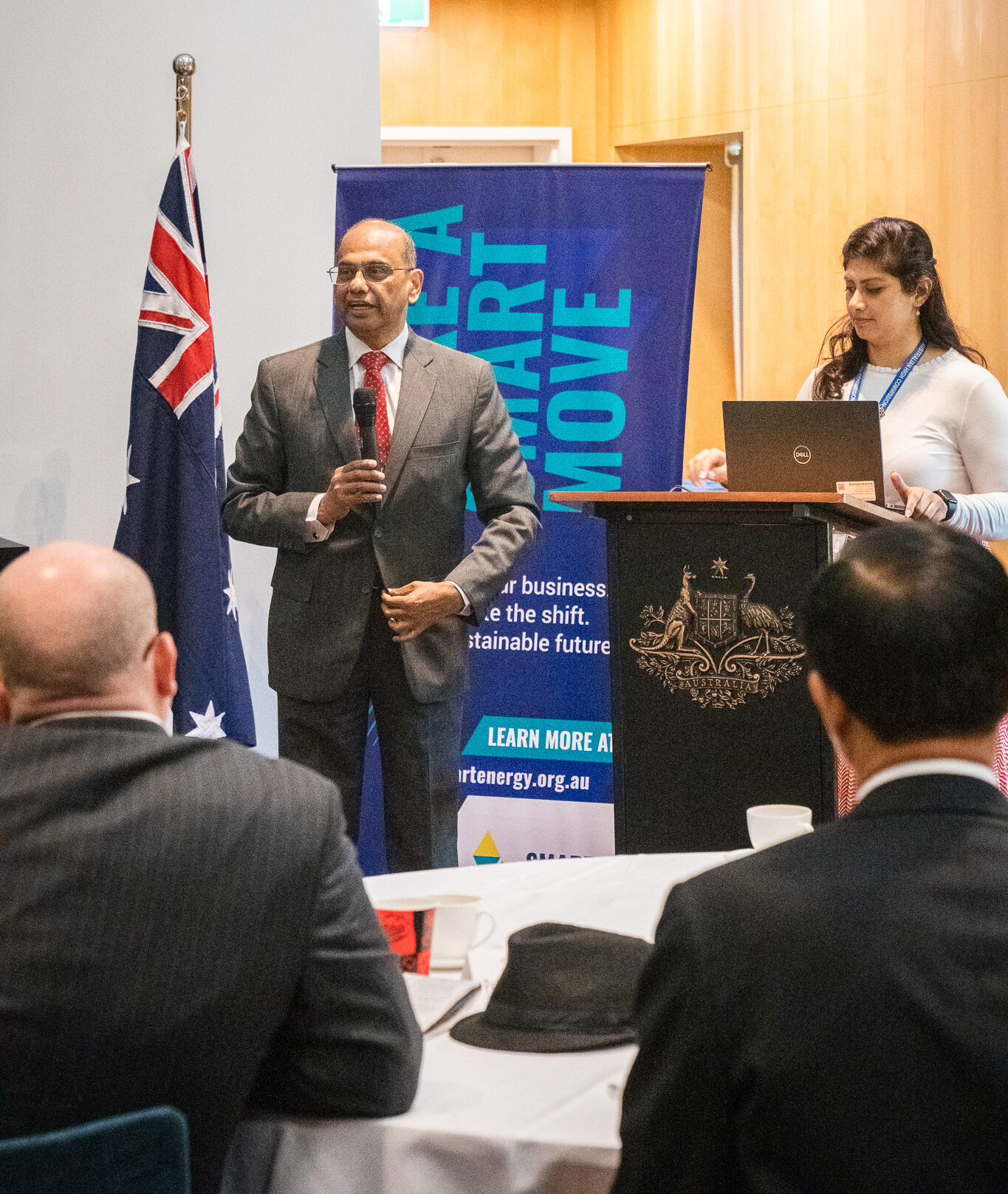 But, it's innovative companies like ReNew Power that put that policy into action.
Shashank Adlakha and Abhishek Ranjan, Senior ReNew Power Vice Presidents, speaking with delegates about their expanding green hydrogen, utility and retail divisions. 
Established in 2011, the nation-leading renewable energy company was the first of its kind listed on the Nasdaq – with an asset base of 13 gigawatts.
Now with interests in large-scale solar, wind, hybrid, green hydrogen, hydropower and more, ReNew Power officials discussed with delegates the best ways their businesses can integrate for opportunities in the Indian market. 
And with boundless new opportunities in a growing smart energy sector, comes the impetus to correctly harness the prevailing financial conditions. 
That's where, Institute for Energy Economics and Financial Analysis (IEEFA) South Asia Director Vibhuti Garg, comes in. 
The IEEFA Energy Economist discussed the trajectory of India's energy transition and how policy can not only influence opportunities for trade – but, for development also.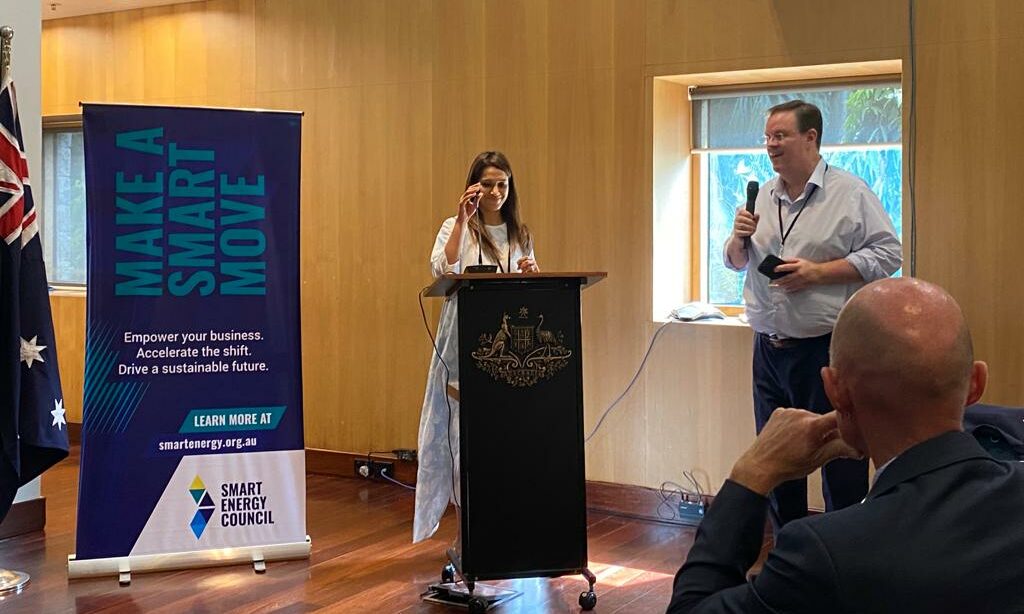 Returning to the High Commission the following day, delegates engaged in a business-to-business deep-dive, developing pitches to present to Azure Power CEO Rupesh Agarwal and his team.  
Azure power, a leading independent energy provider, offering the opportunity to explore areas of collaboration. 
The perfect preparation for delegate businesses later attending an exchange with a range of Indian businesses to prime for future trade. 
Interrupting the business blast was a fireside chat with Avaada Group Solar Manufacturing President Vinoo George – helping delegates craft robust elevator pitches better suited to Indian markets.