Australia's leading solar mounting manufacturer SUNLOCK is giving back to the renewable sector by taking an industry-leading position and switching 100% of their Sunlock C-Channel Solar Rails to LocAl® Green Lower Carbon Aluminium supplied by Capral.
Introduced in November 2022 LocAl®, a lower-carbon primary aluminium option available across Capral's locally manufactured extruded aluminium products. Provides Australian manufacturers access to cleaner, greener, more sustainable aluminium for their projects.
While considerable research has occurred into the payback period, life cycle, and emission offset for solar panels, the impact of thousands of kilometres of aluminium solar rails spanning the roofs of homes and businesses is often overlooked. It is estimated that this year alone, Australian solar panel installers will use more than 16,000 km of aluminium solar rail to fix panels to the rooftops of homes and commercial buildings; this equates to something in the range of twelve thousand tonnes of aluminium.
Aluminium is often touted as the "Sustainable metal", its versatility and recyclability earning it this reputation. However, there are significant variations in the carbon emissions generated by smelters during the production of primary aluminium – one might argue that some aluminium is considerably more sustainable than others.
The carbon emissions in primary aluminium production range from under 4kg CO2e/kg Al to over 20kg CO2e/kg Al, largely dependent upon the energy sources used. The current global average carbon emission for primary aluminium is approximately 13.9 kg CO2e/kg Al.*
These are sobering numbers when you consider just how much solar rail Australia currently consumes through independent and large-scale rooftop solar installations – based on global averages, we could estimate more than 200,000 tonnes of CO2e associated with the solar rails that will be installed on Australian rooftops this year.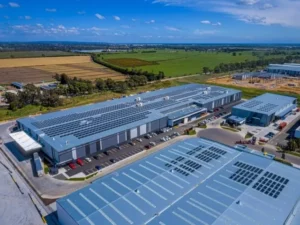 Australian solar mounting solutions manufacturer SUNLOCK has taken an industry-leading position by switching 100% of their SUNLOCK C-Channel Solar Rails to LocAl® Lower Carbon Aluminium supplied by Capral. Mani Kaparakis, General Manager of SUNLOCK comments;
"Switching to LocAl Green, provides us with an opportunity to do our bit for the renewables sector."
"Sunlock's philosophy is built on embracing change, innovation and sustainability. The materials we manufacture and distribute provide the foundations for the renewable energy. The adoption of LocAl Green, means our mounting solutions aren't only the most efficient and effective, but now the most sustainable."
SUNLOCK's unique C-Channel Rail design and high strength-to-weight ratio allow for greater spans on challenging rooftops. It complies with relevant Australian standards and is backed by a 25-year warranty, making it suitable for various building types and harsh climates. Having built a business with a high bar for quality, the SUNLOCK team are not willing to compromise on product performance or durability.
"Strength, weight and quality are huge considerations for our commercial installers; It needs to perform in the way it has been engineered to perform."
"One thing which stood out for us whilst we were considering the switch to LocAl Green was the fact that we could drastically reduce our carbon emissions without any change to our product quality, performance or specifications," said Mani Kaparakis
Capral's LocAl® – Lower carbon aluminium, is a sustainable and economical solution for the solar industry. LocAl® Green offers significantly lower carbon emissions than the global average for primary aluminium. With eight kilograms of carbon emissions per kilogram of aluminium, LocAl® Green has significantly lower carbon emissions than the current global average for primary aluminium production. The reduction in emissions is achieved through the use of alternative energy sources during the smelting process; the properties of the aluminium remain unaltered, ensuring it continues to deliver strength, durability, corrosion resistance and longevity for solar applications.
The primary aluminium used in Capral's LocAl® Green offer is sourced exclusively from Aluminium Stewardship Initiative (ASI) certified smelters. ASI is a global non-profit organization that promotes responsible procurement and sustainable production of aluminium.
Capral Aluminium has been certified against the ASI Performance Standard V3 and Chain of Custody (CoC) V2 for the extrusion, warehousing and distribution of aluminium products and services. The certifications apply to all of Capral's 26 facilities, composed of mills, distribution centres and trade centres, spread across every state and territory in Australia. The LocAl® Green aluminium supplied to SUNLOCK carries chain of custody certification from the start of the aluminium value chain right up until it leaves Capral's door for delivery to SUNLOCK. This assures SUNLOCK and its customers that the material has been produced and managed responsibly, meeting stringent sustainability and societal impact standards from cradle to gate.
"In 2023 approximately 30% of the primary aluminium billet Capral uses in its eight local extrusion presses has a carbon content lower than eight kilograms CO2e per kilogram of aluminium. This is a strategic decision for Capral, driven by our desire to make lower Carbon aluminium accessible to Australian manufacturers like SUNLOCK. The market is looking for this product, and as Australia's largest extruder of aluminium, we are committed to making it available." Comments Luke Hawkins General Manager Industrial at Capral.
By making this switch, SUNLOCK will reduce the Carbon emissions associated with its product by 3,000 Tonnes this year alone. Moreover, they are demonstrating a commitment to sustainability and leadership within their industry. Craig Babatsikos, Capral Account Manager adds;
"Sunlock is an innovative and foreword thinking Australian business committed to doing the right thing; they are supplying a product critical to the Australian Commercial Solar market and are committed to meet their objectives in the renewable energy sector, but what's more, they are doing what they can to decarbonise their product and make their product more sustainable, its exceptional leadership by the SUNLOCK team and we commend them for taking this initiative".
The new supply arrangement between Capral and SUNLOCK is already in full swing, with all current extrusions supplied by Capral to SUNLOCK carrying ASI certification and certified carbon content of <8kg CO2e/1kl Al.
*Kilos emitted per kilo of aluminium produced during smelting and casting stages.