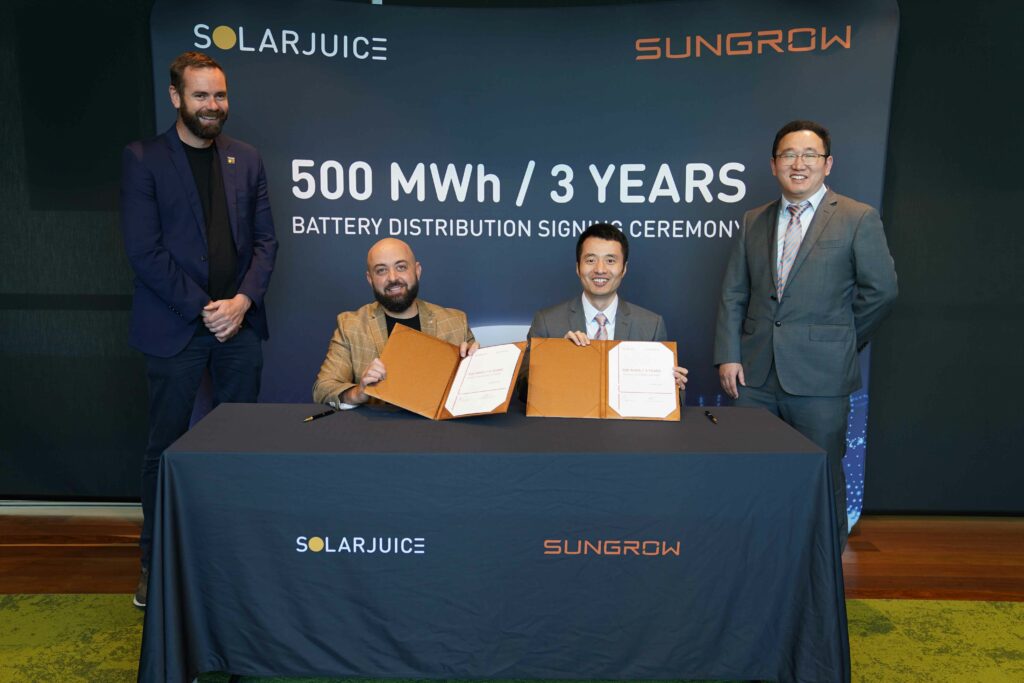 Sydney, 4th May 2023 – Sungrow, the global leading inverter and energy storage system solution supplier for renewables, has announced the signing of a distribution agreement with Solar Juice Group, a leading Australian solar PV distributor, during the Smart Energy Expo 2023 held in ICC Sydney. Under the agreement, Sungrow will supply 500MWh of its cutting-edge energy storage system (ESS) solutions to Solar Juice Group, demonstrating its commitment to the Australian market.
The agreement was signed by Joe Zhou, Country Manager of Sungrow Australia and Rami Fedda, Director of Solar Juice Group, in the presence of industry leaders. Speaking on the partnership, Joe expressed confidence in the ability of the two companies to work together to drive the adoption of clean energy in Australia.
"The partnership with Solar Juice is a significant step as it's the largest battery project signed with our distributors," said Joe Zhou." Energy storage systems (ESS) are essential technologies because of the support they provide in times of need to overcome supply-demand balance challenges," he added.
As a leading provider of renewable energy solutions, Sungrow offers a comprehensive range of products and services that are tailored to the needs of customers in different markets. With 26 years of experience in the solar industry, Sungrow has built a strong reputation for quality, reliability, and innovation.
Solar Juice Group, on the other hand, is a fast-growing solar PV distributor in Australia with a focus on providing high-quality products and services to its customers. With a strong network of partners and a commitment to customer satisfaction, Solar Juice Group has become a trusted name in the industry.
The partnership between Sungrow and Solar Juice Group will continue to help accelerate the adoption of solar energy in Australia and create new opportunities for growth in the renewable energy sector. Last year, a 3-year agreement was signed between Sungrow and Solar Juice for a 2GW supply contract between the parties, the annual target has been beaten already up till now. As the country looks to meet its climate targets and transition to a low-carbon economy, the need for innovative and reliable renewable energy solutions has never been greater.
About Solar Juice
Solar Juice established 2009, is an Australian company that is a wholesale distributor of Quality Complete Solar Systems – Solar PV Panels, Solar Inverters, Battery Storage, Mounting systems and Balance of Systems. We supply a National network of customers that are located in every state and territory of Australia.
About Sungrow
Sungrow Power Supply Co., Ltd. ("Sungrow") is the world's most bankable inverter brand with over 340 GW installed worldwide as of December 2022. Founded in 1997 by Professor Cao Renxian, Sungrow is a leader in the research and development of solar inverters with the largest dedicated R&D team in the industry and a broad product portfolio offering PV inverter solutions and energy storage systems for utility-scale, commercial & industrial, and residential applications, as well as internationally recognized floating PV plant solutions, NEV driving solutions, EV charging solutions and renewable hydrogen production systems. With a strong 26-year track record in the PV space, Sungrow products power over 150 countries worldwide. Learn more about Sungrow by visiting www.sungrowpower.com.