Storing renewable energy in home batteries, electric vehicles and through large renewable energy storage projects is a critical progression for unlocking Australia's energy transition.
Eminent US climate and energy commentator David Roberts (@drvolts) was floored by rooftop solar penetration in Australia, installed on nearly one-third of eligible homes, and that if similar rates were achieved back in the United States he'd "dance a jig."
While home PV systems are driving electrification, like heat pumps "going gangbusters" as noted by Solar Victoria's Stan Krpan, the overwhelming need to store Australia's world-leading renewables for peak periods is glaring. Just like the Aussie sun.
"Batteries are becoming more afforable and attractive, and our quality, safety and audit programs help to ensure only the highest quality and performing batteries are installed under #SolarHomes" – @StanKrpan at the @SmartEnergyCncl's Renewable Energy Storage Summit #SmartStorage pic.twitter.com/Slrit7ON6v

— Solar Victoria (@SolarVictoriaAU) August 11, 2023
"When it comes to renewable energy storage, we need everything, everywhere, all at once, again and again and again," said Smart Energy Council CEO John Grimes.
And time is running out to do so.
"We need to invest in storage technologies at scale and at speed to meet our renewable energy targets," said Chris Miller of the State Electricity Commission.
"This is the decade of action, we don't have the luxury of waiting.
Australia won't reach 82% renewables, or a 43% reduction in emissions by 2030, without massive investment in renewable energy storage… and we know it works.
"We have 12,000 residential battery systems connected to our platform… even unoptimised, we've found there's great benefit in reducing the duck curve by having home battery systems," Evergen's Kate Reid told Summit attendees.
"These are benefits to everyone connected to the grid.
Summit attendees heard storage solves renewable energy supply issues, benefits battery owners and grid stability, that we need storage at all scales right now – sounds like a lot of agreement?
But, as Motts MacDonald Technical Director Ian Boake said, "It's about getting people to realise the capacity of storage technology to completely transform the industry."
Underestimating storage potential, means underinvesting in storage projects.
"I do worry that government policy has a potential to delay investment, that policy scale can hamper investment – you wonder, is the structure of the government support helping?" said Gaw Capital's Oliver Yates.
"There are two main classes of investors in the clean energy space: infrastructure-style investors who seek secure, predictable returns… and then we have cleantech investors at the smaller end of the market and who have much smaller cheques.
"That leaves a bit of a problem for scale investments like storage and batteries, that aren't perfectly suitable for infrastructure investors because they haven't been fully derisked.
Meanwhile, the world's largest economies, the US and China, are solving the renewables investment problem in typical fashion – by throwing money at it.
"The main thing that Inflation Reducation Act signals is that the era of free-trade, free-market neoliberalism is over," said Volts podcast host David Roberts.
"There is no global free market.
For better, or worse, this superpower race is dragging the world along with it.
"If the US, and other developed nations, want to keep up, or not fall behind, or not be completely dependent on China for all these technologies – it needs to get in the game," said Roberts.
"The IRA is not just about brute-forcing technology, policymakers are concerned this transition supports jobs… to encourage union jobs, prevailing wage jobs"
#SmartStorage Outstanding insights from David Roberts @drvolts on the US Inflation Reduction Act at @SmartEnergyCncl Storage Summit in MEL today. 'The era of neoliberal free markets is dead' We need new tools & policy mechanisms. #auspol pic.twitter.com/d1QiqteUTS

— Scott Hamilton (@SDHamiltonVIC) August 10, 2023
Lest a $500 Billion AUD surplus is found beneath Treasurer Jim Chalmer's bed, Australia can't directly compete with the US IRA or China's investments – but, we can design smart policy and leverage our natural (resources) advantage to secure storage.
The Capacity Investment Scheme, a long-advocated policy from the Smart Energy Council, is just that.
"We have three power stations closing over the next decade… the Capacity Investment Scheme will play a key role, bringing forward 6GW of clean dispatchable energy by 2030," said Nexa Advisory's Stephanie Bashir.
The Capacity Investment Scheme isn't for far-fetched Small Modular Reactors, it unleashes investment in storage technologies we have right now – many of which are made in Australia.
"The Capacity Investment Scheme is not for future technologies that don't exist yet… it's storage as a transmission asset, that alleviates the symptoms of transmission problems," Fluence's Lara Panjkov told Summit attendees.
So as we enter this new stor-age, the true battery block reveals itself…
"Australia's entire energy grid was designed for one-way transmission from massive, aging coal and gas plants and fed to consumers – not designed for consumers themselves," said Smart Energy Council CEO John Grimes.
"It's time Australians were put at the centre of Australia's energy system, renewable energy storage at all scales can make that happen.
"What we've seen for decades now, through 'gas-led recoveries' and coal plant extensions, is an unwillingness to unhook from fossil fuels.
"We simply won't reach our targets without rapid and robust investments in renewable energy storage.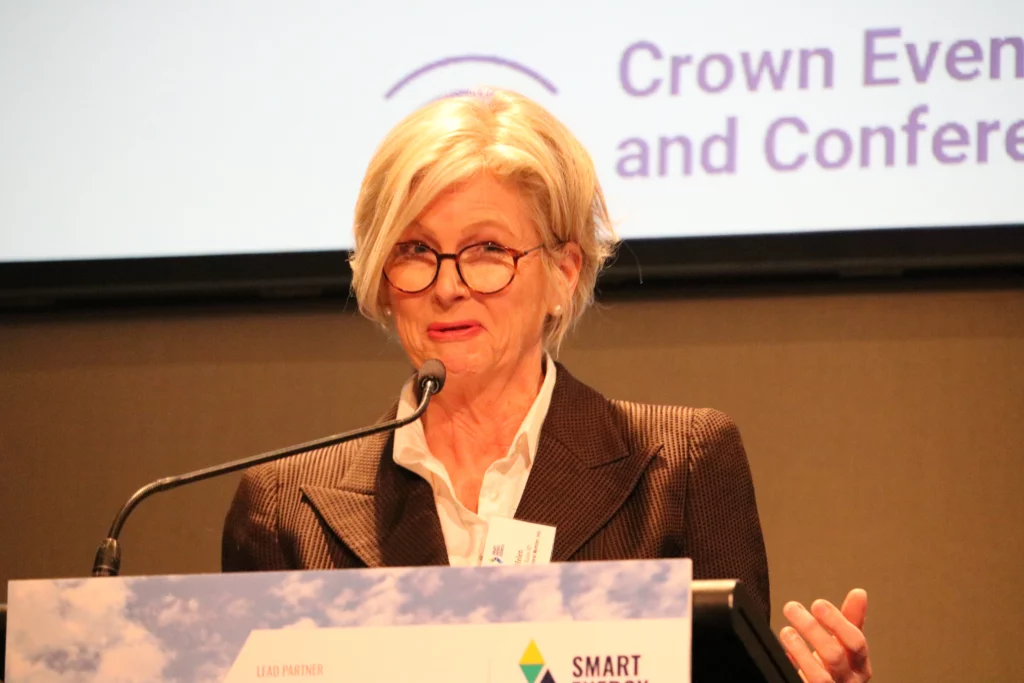 Dr Helen Haines MP, Independent Federal Member for Indi, agrees.
"The most important form of energy storage is with the people of Australia… people are at the centre of our power transformation," said Dr Haines MP.
"As an independent on the biggest crossbench in federal electoral history… I'm here to champion at every step of the way, that you can communicate the extraordinary work that you're doing to the people that have to adopt it.
"To the people that must demand of their politicians that we get this, and we get it fast.