Since the world's first PV "smart manufacturing + Internet" transparent factory started its operation in Astronergy, the company was in love and set to bond with all possible intelligent measures, such as AI, industrial Internet, big data, making all its production links go smart and smooth.
Not limited to the enhancement of traditional production measures, Astronergy is always one of the pioneers in practising 'Intelligent manufacturing in China'. Starting from its first try in 2016 in the transparent factory, Astronergy kicked off its digitalized and intelligentized development plan.
For PV cells, to encounter the problem that cell production links are relatively independent and a vast amount of materials needs to be moved, Astronergy introduced automated guided vehicles (AGV) in 2022 for higher efficiency at factories.
Nowadays, a total of 226 AGVs at its Haining Manufacturing Base work under a central management system and automatically finish handling tasks by matching the handling requirements of production processes.
For PV modules, to realize the full-link controllability and full-process traceability of each piece of PV module product from raw materials to process, and configuration parameters, Astronergy has independently developed quality control tools such as manufacturing execution system (MES), statistical process control (SPC), and quality inspection App.
A barcode for each module product at the very beginning is used as a keychain for the above tools for managing production processes and production risks for smooth production.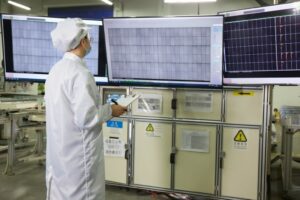 Based on its automatic production lines and independently developed MES, an AI-based EI automated defect detection measure was introduced in Astronergy. As the first in the PV industry to do that, the move aims to enable its factories to utilize AI's in-depth learning and algorithm-supported upgrading completely detect the appearance and internal defects of PV cells and modules.
At present, the intelligent detection coverage rate of Astronergy PV cell production is 72%, and the detection accuracy rate is over 98%; that of the PV module production process reached 92%, and the detection accuracy rate hit 99.7%, making Astronergy one of the few enterprises in the industry with intelligent detection coverage rate of more than 90%.
Taking tech advancement as core, Astronergy working to drive the sustainable and healthy development of the industry with intelligent innovation and continue to move forward on the way to become the most competitive PV module supplier worldwide.