The Smart Energy Council's Division Manager for Zero Carbon Hydrogen Australia, Max Hewitt, has just published an article on Hydrogen Certification in Australia.
A lack of commitment from the Australian Government to develop regulation & standards for renewable hydrogen, despite burgeoning domestic & international demand, has resulted in an industry-led scheme stepping up.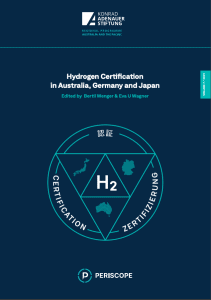 Zero Carbon Hydrogen Australia launched its Zero Carbon Certification Scheme in December 2020. It is a Guarantee of Origin style scheme which promotes the uptake and distribution of renewable hydrogen products and their derivatives in Australia and overseas.
"The opportunity for renewable hydrogen is a much talked about topic in Australia – it is not a secret that Australia boasts some of the best wind and solar resources in the world, and further, has the available land to harness these resources on a massive scale. The 26GW Asian Renewable Energy Hub and the 3GW SunCable projects both stand as a testament to the bright 'green' future that Australia can unlock given enough ambition."
Read more about the scheme in the full article, within the Konrad Adenauer Stiftung's publication, Hydrogen Certification in Australia, Germany and Japan: https://lnkd.in/gR5pFXSQ