Australia's uncomfortable history with declining industry is written in the rubble of demolished coal generators and graffitied on the skeletons of dormant car factories – clean hydrogen promises a new trajectory.
October 2017 saw Holden production cease on our shores, tens of thousands of jobs impacted by auto factory closures – large-scale vehicle manufacturing in Australia ceasing indefinitely.
Now, scattered across the nation's many industrial hubs both regional and metropolitan, sit giant factories without industry or workers to fill them.
The significantly sized Lionsgate Business Park in South Australia among them, the former home of Holden.
But, on the opposite side of the globe in a former Ford production plant in Bordeaux, France, that closed in 2019 – a new industry emerges.
Not just an industry itself, but a high-power hydrogen fuel cell plant supplying French and international market with stationary, heavy marine and rail mobility projects, with clean hydrogen fuel – enabling the growth of adjacent industries too.
The 7,000 square-metre plant's foundation stone laid in February this year; will see a reinvigoration of skills and the renewal of a regional landmark, by installing cutting-edge technology.
Hundreds of construction jobs to complete the world's first mass production high-power hydrogen fuel cell factory by the end of this year, and 100 ongoing jobs once operational in 2024.
More than 500 regional industrial jobs if plans for a gigafactory are approved.
HDF Energy is a global pioneer in hydrogen power, and the French company plans to replicate their Ford factory's transition in overseas markets such as the Asia-Pacific region, to establish reliable energy supply chains in new regions.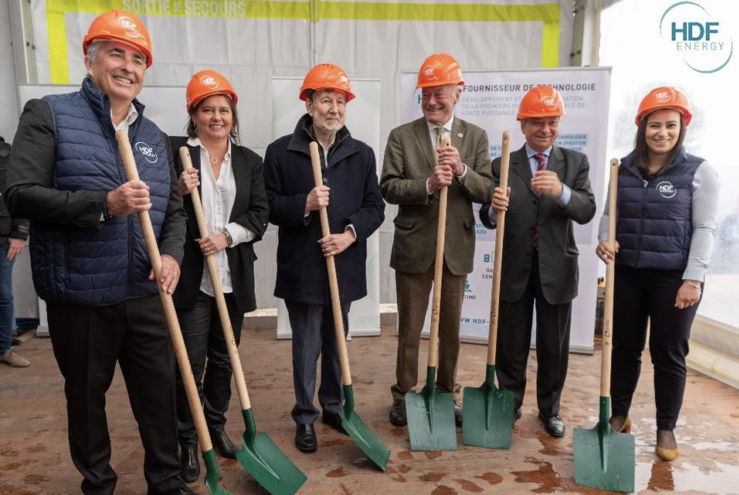 "Our fuel cell technology costs less to construct, uses less hydrogen to produce more power, and will provide ongoing manufacturing jobs," said HDF Energy General Manager of Australia, David Clement.
"The only things they emit are power and pure H2O – no CO2, no NOx, no emissions at all, from day one."
HDF's ambition is to tackle the hard-to-abate sectors and regions, to bring hydrogen power to the forefront as the future fuel.
A recently released report comparing the French company's fuel cell technology against other traditional combustion power generation technologies; indicates that over the longevity of a power plant's build and operations, the fuel cell has a substantially lower cost line trajectory using 100% hydrogen.
In Australia, HDF's focus includes the mining resources sector and remote communities, where off-grid high renewable penetration is becoming a priority, based on the legislative goals by the Federal Government's emission targets, global ESG focus and the expensive cost and access of fossil fuel.
Working closely with local councils, the hydrogen pioneer is seeking an easier path to reduce additional transmission infrastructure in built-up regional zones, where there are alternatives, such as "hub and stroke" hydrogen-powered generation plants.
In regions where longer and larger transmission lines hinder energy resources, HDF can finance and build a H2 generation plant strategically located, to boost power in the area.
These are clean ambitions and aspirations that Australia's energy, construction and manufacturing industries can get behind.
Australia's aging coal-fired power stations and fossil fuel gas plants will soon join our automotive industry in history, as we rapidly transition to meet the 82% renewable energy generation target by 2030.
The fossil fuel industry across the nation will shed thousands of jobs, regional facilities will close, and skilled Australian workers will have nowhere to turn.
The fossil fuel gas lobby knows this, customers threatened with the collapse of the grid, should their irrelevance become common knowledge.
But, as we've seen with the $2 billion investment in the Hydrogen Headstart program, and the impending National Hydrogen Strategy – there is a plan to kill unemployment, energy scarcity and emissions, with one electron.
Hydrogen is the 'gas-led recovery' we need, no carbon required.
Joanna Kay



General Manager, Zero Carbon Hydrogen Australia