Australian Energy and Climate Change Minister Chris Bowen and the Smart Energy Council hosted a joint India-Australia Smart Energy Industry Roundtable Discussion with business leaders at the G20 Clean Energy Ministerial (CEM) following landmark renewable project investments.
Minister Bowen is representing the Australian Government at the CEM and met with Sunrise CSP CEO Artur Zawadski after their completion of the world's largest solar concentrator at the Kailash Cancer Hospital and Research Centre in Gujarat.
"The Big Dish system developed by the Australian National University delivers steam up to 600 degrees Celsius and 160 bar pressure – perfect for district heating and cooling, industrial process heat and power," said Sunrise CSP CEO Artur Zawadski.
"This Australian innovation is helping one of India's cutting-edge cancer centres power cooking, laundry and disinfectant systems," said Smart Energy Council CEO John Grimes.
"This is an outstanding example of the global industry-to-industry collaboration that the Smart Energy Council has fostered during the 2023 Smart Energy India Delegation.
"The opportunities the Smart Energy Council has harnessed by leading Australia's engagement with India unlocked a pipeline of $1 billion in investment.
Minister Bowen joined the Australia-India Smart Energy Industry Discussion, scheduled in the margins of the G20 Energy Transitions Ministerial Meeting.
"The event highlighted the critical Australian and Indian industry-to-industry collaboration on accelerating progress to a net zero global economy," said Energy and Climate Change Minister Chris Bowen.
"This is about win-win, a win for Australia, a win for India – closer economic relations with what is the fifth largest economy in the world and growing," said Bowen.
"The Smart Energy Council is honoured that Minister Bowen met with our delegates and partners in India; and is looking to strengthen India-Australia business ties – just as we are," said Smart Energy Council CEO John Grimes.
"As India scales up solar and battery production, looks to build massive projects overseas, and rolls out cutting-edge energy technology at home, the opportunities for collaboration are immense.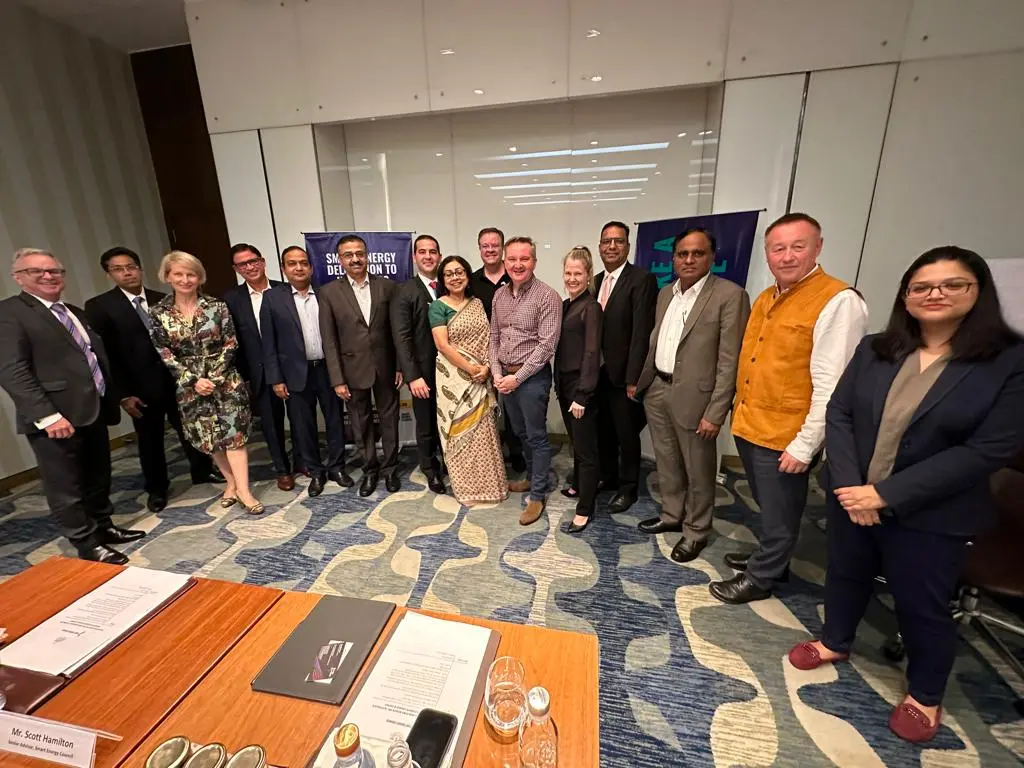 Currently, the largest Australian solar farm project under construction is 400mW – while in India, leading Australian Smart Energy Council member businesses AERL and Rare Energy were shortlisted for 2000mW projects while attending our delegation.
While rapid solar deployment pioneers 5B in partnership with AES India is deploying a new solar project in Goa, meeting the Government of India's priorities for the energy sector.
"5B is grateful to the Smart Energy Council and partners in India for making the jump from start-up solar business to global juggernaut," said 5B Supply Chain Executive Matt Vocale.
"In India, the scale is bigger and the opportunity is more immediate," said Smart Energy Council CEO John Grimes.
"Australia however, is at the solar technology forefront – 5B, CSIRO and Sundrive leading that charge.
In August 2022, Smart Energy Council CEO John Grimes and Senior Advisor Scott Hamilton ventured to India to determine whether there's merit in an India-Australia strategic supply partnership – the answer was a resounding yes.
John and Scott returned in March 2023 with a delegation of 34 companies for an 11-day and 4-city engagement tour with the Australian and Indian smart energy industry.
This engagement has generated an investment pipeline of more than $1 billion directly linked to our delegation.
"The Smart Energy Council has played a pivotal role in bringing that Australian innovation, to meet India's immense scale," said Mr Grimes.