It is a mild summer morning just outside Canberra and half a dozen parliamentarians in trademark navy suits are picking their way between densely packed 5B Maverick solar arrays at Bungendore's renewable power facility.
They are discussing the speed, safety, and operational efficiency of 5B's innovative technology compared with the fixed-tilt solar system in the neighbouring paddock.
Climate change is a chief concern among their constituents. The global decarbonisation push is driving a 50-fold increase in installed solar, from roughly 900 gigawatts to at least 40 terawatts by 2050. And they are pinning Australia's hopes of being a clean energy superpower on fast growing dynamos like 5B.
Some 14,000 kilometres away in Panama, a unique design feature of 5B's technology is paying dividends at the seaport city of Colon where a crew is folding up 10 of 62 5B Maverick solar arrays, initially deployed in 2020, to make way for an expansion of a gas plant. 
The excitement among 5B's engineers, its deployment partner, and the client on site is palpable. It is the first redeployment of 5B Mavericks from one commercial site to another. The ability to easily shift the location of a solar farm within days and continue to sweat the assets is a game changer. In essence, it makes solar more commercially viable for customers with short and medium-term needs, under 10 years. Roughly 10 per cent of 5B's market share comes from projects that need solar on a five to 10 year basis.  
The redeployment aspect also cracks open new business models for off-grid power generation and service suppliers. The scramble among miners and oil and gas producers to cut embedded emissions in their supply chains is driving an extraordinary level of activity. And 5B has just delivered them an edge, removing the risk of stranded assets while also allowing for end of life recycling.
Disruptive innovation
Founded in 2013, 5B is the brainchild of solar engineers Chris McGrath and Eden Tehan. It was created with a singular purpose – to solve the problems they encountered while working together on Australia's first large-scale solar projects.
The pair were part of a small army of workers traversing hot and hostile construction sites carrying and installing solar modules by hand. It occurred to them that if one were to build a large-scale array from scratch on a blank sheet of paper, with no preconceptions, it would look very different.
They set about completely redesigning where and how solar farm infrastructure is made. By prefabricating an accordion-style solar array, they succeeded in moving the time, cost and risk from the field into a controlled factory environment, and by doing so increased safety.
The result is a folding solar farm that can be deployed by machine up to ten times faster, using a small crew. 5B Maverick arrays arrive on site fully built, pre-wired and ready to plug-and-play.
Few places highlight the extent to which 5B has recalibrated conventional solar deployment better than Chile's Aconcagua Valley. On a site accessible only by a precarious single lane road, transporting anything extra in and out can cause severe cost blowouts. This includes packaging waste on solar modules. Skilled workers are scarce in the region and accommodation for them even less so. In environments like these, 5B is completely redefining the levelised cost of energy (LCOE) for solar which measures the lifetime cost of building and operating a power plant.
The need for speed
The name 5B is a nod to the five billion years of sunshine left. But it also belies a challenge to use it more wisely. It calls for creative collaboration across the entire energy sector.
"Speed is central to the solar industry's ability to solve climate change at a very fundamental level," 5B co-founder and chief executive Chris McGrath says. "To build 50 times the amount of solar we currently have requires building individual projects faster, but also ramping up the global solar industry by a huge magnitude."
5B's high-speed cycles of innovation are already delivering a step change in the logistics, safety, speed of deployment, and operational efficiency of solar farms globally.
A $33 million technology program, kicked off this year with the help of $14 million from the Australian Renewable Energy Agency will up the ante. Advanced manufacturing and roboticised deployment are just some of the innovations these funds will help deliver.
As a result, 5B will continue to transform the way renewable energy, and solar in particular, is built on a global scale, not just through a singular technology but by tackling inefficiencies across the entire value chain.
As the preferred solar technology supplier to Sun Cable's proposed Australia–Asia Power Link (AAPowerLink), 5B is "running the trip wires" on fortifying a supply chain to produce, ship and deploy solar on a scale never previously attempted. The project – slated to start selling solar power to Singapore in 2027 – encompasses the world's largest solar plant at up to 20 gigawatts, situated in the Northern Territory.
"Sun Cable is a really illuminating example of where the system starts to stretch and break when you turn the dial up that much," McGrath says. 
Since its first commercial deployment in 2017, 5B has completed 56 projects with over 33MWp capacity alongside the biggest utility scale players globally.
Two years ago, its innovative approach caught the eye of Fortune 500 energy juggernaut AES, now one of 5B's largest strategic investors.
AES' investment marked a significant turning point for 5B, bringing not just an influx of cash to fuel growth but also a critical validation of its technology, a utility grade customer, plus an experienced global player to provide strategic support and guidance.
What's next
This provided a springboard to enter three new markets – the United States, Chile and India – last year. "It was probably the worst year of the decade you could choose to expand internationally but we did it through sheer stubbornness and grit," McGrath says.
While the pandemic created roadblocks, global expansion was always part of 5B's strategic plan. Demand for solar remains strong in the US despite supply-side headwinds. If the Build Back Better Act is enacted, the US is projected to install 43.5 gigawatts (GW) of additional solar capacity over the baseline forecast between 2022 and 2026, according to Wood Mackenzie. This would bring cumulative solar capacity in the US to over 300 GW, triple the amount of solar deployed today. India needs to add 400 gigawatts of renewable power generation by 2030 to meet its 'Mission 500GW' action plan. Chile, meanwhile, hosts some of the largest solar plants under construction in the world.
5B's international expansion is informed by a careful assessment of where the most solar projects will be built that play to its strengths in order to position itself in the path of growth.
A terrified optimist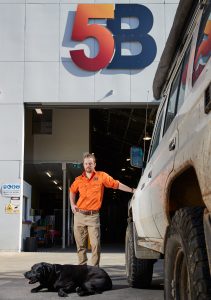 McGrath frequently refers to himself as a "terrified optimist" because he simultaneously appreciates the magnitude of the global warming challenge while also believing that it is surmountable.
"All the technology to solve climate change exists. We just need to get our skates on," he says. As the pace picks up, McGrath believes resource scarcity will emerge as a major pain point in the renewables race. "Land, steel, concrete, grid connection points, labour scarcity will be a massive issue for deploying the amount of solar generation needed in the future," he says.
Land scarcity is already impacting the economics of urban clean power projects in places like California where land is eye-wateringly expensive. It is one of the main factors for electric truck-charging pioneer, WattEV, selecting 5B Maverick for its Southern California freight hubs.
The east-west topology of 5B Maverick results in marginally lower output than fixed-tilt and single axis tracker systems. However, the shade thrown by the latter systems means their ground coverage ratio is significantly lower compared to the 5B Maverick. 
The 5B system generates 90 to 100 per cent more energy per unit area than incumbent single axis tracker and fixed tilt structures.
"We started out not really thinking about land density because Australia has a lot of land. We were focused predominantly on cost. But as we started to quote projects in the US, India and Chile, the land density benefit was picked up by customers as an important value-add," McGrath says.
"Even in Australia in very large projects we're already seeing the signs of land scarcity driving different outcomes and 5B having a competitive advantage there," he says.
Integrated batteries will compound this issue. "Suddenly you need four or five times more solar arrays to drive output over 24 hours, so the land requirement increases exponentially," McGrath explains.
5B's research and development team is already homing in on energy efficiency improvements to solve this problem. "We haven't squeezed all the juice out of that," says McGrath. "From an engineering and materials perspective, we still have a lot of head room."
Learn more about 5B here.